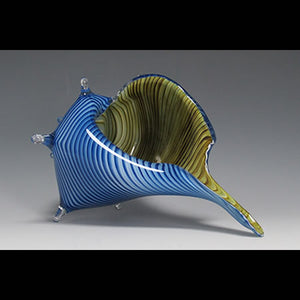 Adam personally makes each glass piece you purchase, it will take 2-4 weeks to process your order before shipping. We ship UPS ground with tracking & will send an email conformation once your order has shipped. Thank you for your patience, it will be worth the wait for a finely made, one of a kind, custom glass shell.
PLEASE read SHOP POLICIES before you PURCHASE.
Blue-Olive: Hand Blown Glass Whelk Shell 
Size Choices & Price:
Small (3-4") = $150

Medium (6-8") = $225
Large (10-12") = $350
Whelk Shell Fun Facts:
Whelk Shells are similar to Conch Shells- both are large marine snails. Whelks are snails with beautiful shells. If you see something on the beach that looks like a "seashell," it's probably the shell of a whelk. Whelks have a spiraled shell which varies in size and shape.