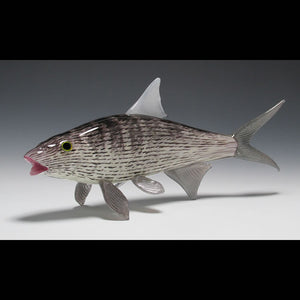 Adam personally makes each glass piece you purchase, it will take 2-4 weeks to process your order before shipping. We ship UPS ground with tracking & will send an email conformation once your order has shipped. Thank you for your patience, it will be worth the wait for a finely made, one of a kind, custom glass fish.
PLEASE read SHOP POLICIES before you PURCHASE.
Bonefish: Handblown Glass Fish
Size Choices:
Small (10-12") = $300

Medium (14-16") = $500
Large (18-20") = $700
Fun Fish Facts:
Bonefish have deeply forked tails that provide power for chasing prey in lush grass beds. Keen eyesight and a skittish nature make these fish a prized trophy for saltwater anglers. They travel in small schools prowling grass beds and sand flats for shrimp, crabs and other invertebrates. This is an inshore fish inhabiting shallow waters often less than one foot deep, usually over lush seagrass flats, but occasionally over white sand.