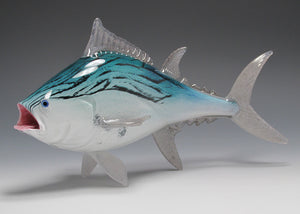 Adam personally makes each glass piece you purchase, it will take 2-4 weeks to process your order before shipping. We ship UPS ground with tracking & will send an email conformation once your order has shipped. Thank you for your patience, it will be worth the wait for a finely made, one of a kind, custom glass fish.
PLEASE read SHOP POLICIES before you PURCHASE.
False Albacore Tuna: Handblown Glass Fish
Size Choices:
Small (10-12") = $300

Medium (14-16") = $500
Large (18-20") = $700
Fun Fish Facts:

The little tunny is the most common tuna in the Atlantic Ocean. It is found in warm temperate and tropical waters of the Atlantic and the Mediterranean; in the western Atlantic, it ranges from Brazil to the New England states. Commonly called bonita, false albacore, or little tuna, it resembles the Atlantic bonito, skipjack tuna, and species of mackerel. The little tunny feeds primarily on pelagic fish.