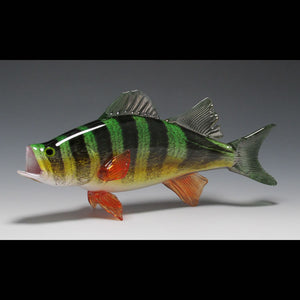 Adam personally makes each glass piece you purchase, it will take 2-4 weeks to process your order before shipping. We ship UPS ground with tracking & will send an email conformation once your order has shipped. Thank you for your patience, it will be worth the wait for a finely made, one of a kind, custom glass fish.
PLEASE read SHOP POLICIES before you PURCHASE.
Yellow Perch: Handblown Glass Fish
Size Choices:
Small (10-12") = $300

Medium (14-16") = $500
Large (18-20") = $700
Fun Fish Facts:

The yellow perch, commonly referred to as perch, striped perch or American perch is a freshwater. 
Yellow perch travel in schools, generally preferring relatively shallow waters near shore. They are rarely taken from waters more than 30 feet deep, although in spring and fall they inhabit shallower areas than they do in the heat of the summer. 
In the United States, the native range extends south into Ohio, Illinois, 
and throughout most of the northeastern United States.